Cycling
Santa Susanna has become an established sports tourism destination cyclists from all round the world thanks to its specialist accommodation, appealing mountain bike trails for all types of cyclist, customised services and a great cycling atmosphere.
Download the Cycling triptych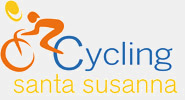 MTB Routes 10 – Circular from Santa Susanna, Tordera, Sant Llop and Hortsavinyà
A magnificent, long-range circular route. It begins by running through the lower basin of the River Tordera, climbs up to Palafolls Castle, drops down to the village of Tordera, and then begins to climb up through the foothills north-east of Montnegre before entering the Montnegre-Corredor Nature Park and taking in the former centre of the parish of Hortsavinyà, home to the Nature Park Visitor Centre. It finally returns to Santa Susanna along the eastern slopes of the Montnegre massif. Despite the numerous built-up areas, the rugged, mountainous areas still retain outstanding landscapes of humid and semi-humid Mediterranean woodland, with glades of holm oak, oak and chestnut trees, large, stone farmhouses and fields of crops that the park strives to maintain.
Main waypoints: Santa Susanna, Malgrat de Mar, Palafolls, Tordera, Sant Llop, Virgen de l'Erola, Sant Miquel de Vallmanya, Sant Pere de Riu.
Distance: 40km
Climb: 1100 m
Duration: 5 h 30 min
Types of track used: Tarmac track, track, streets and seafront promenade.

More information
[ssba]