Cycling
Santa Susanna has become an established sports tourism destination cyclists from all round the world thanks to its specialist accommodation, appealing mountain bike trails for all types of cyclist, customised services and a great cycling atmosphere.
Download the Cycling triptych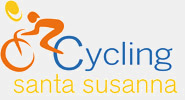 MTB Routes 5 – From Santa Susanna to Sant Llop
A route that ventures into some of the most beautiful hidden corners of the Mountains of Santa Susanna and the Serra del Llop, taking in such landmarks as the former rectory of Hortsavinyà and the church of Sant Miquel de Vallmanya. With a substantial overall incline, this demanding route essentially runs along tracks in very good condition, but also includes certain sections of steep rutted paths requiring a degree of cycling skill. Fine views are frequent, with a fluctuating range of natural landscapes and forms of vegetation, making this route an excellent example of what the Montnegre-Corredor Park has to offer.
Main waypoints: Santa Susanna, MTB Centre, San Miguel de Vallmanya, las Ferreres, Sant Llop, Coll de las Palomeres, Hortsavinyà, Sant Pere de Riu, Font del Boter.
Distance: 39.90km
Climb: 990 m
Duration: 5 h 30 min
Types of track used: Asphalted track, earth track and sections of rutted paths.

More info
[ssba]