Cycling
Santa Susanna has become an established sports tourism destination cyclists from all round the world thanks to its specialist accommodation, appealing mountain bike trails for all types of cyclist, customised services and a great cycling atmosphere.
Download the Cycling triptych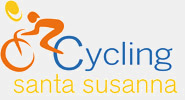 MTB Routes 7 – Via Santa Susanna and the Font del Boter
A simple route revealing the village centre of Santa Susanna, with its parks and squares, while also taking in the sight of the Font del Boter, close to the centre of the village but within the woods, with the spring itself, picnic tables and pleasant shade in the summer. With a very slight incline, short distance and good sections of cycle path, this route is suitable for all.


Districts: Maresme
Main waypoints: Santa Susanna, Parc del Colomer, Font del Boter.
Distance: 5.73km
Climb: 46 m Duration:: 35 min
Types of track used: Tarmac track, track, streets and seafront promenade.
More information
[ssba]