Cycling
Santa Susanna has become an established sports tourism destination cyclists from all round the world thanks to its specialist accommodation, appealing mountain bike trails for all types of cyclist, customised services and a great cycling atmosphere.
Download the Cycling triptych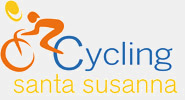 MTB Routes 4 – From Santa Susanna to Hortsavinyà
A beautiful and intense route rising from sea level up to the former ancient parish church of Hortsavinyà, where the Montnegre-Corredor Nature Park Information and Visitor Centre has been set up. The vegetation is to begin with typically Mediterranean, dominated by pines, before gradually changing with the elevation and orientation, alternating with leafy groves of holm oaks, oaks and chestnut trees. Astride high mountains and close to the sea, panoramic views are a regular feature. All the tracks are in good condition, comprising compacted sand, with considerable inclines in the first kilometre and half, and a sharp ascent to the church of Sant Pere de Riu.
Districts: Maresme
Main waypoints: Santa Susanna, Quatre Camins Mare de Déu de l' Erola, Hortsavinyà, Collet de San Andrés, Sant Pere de Riu, Virgen de Gracia.
Distance: 32.68km
Climb: 850 m
Duration: 4 h 20 min
Types of track used: Asphalted track, track, streets, pathways.
More information
[ssba]