Cycling
Santa Susanna has become an established sports tourism destination cyclists from all round the world thanks to its specialist accommodation, appealing mountain bike trails for all types of cyclist, customised services and a great cycling atmosphere.
Download the Cycling triptych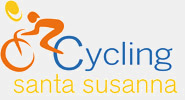 MTB Routes 3 – From Santa Susanna to the beach at Garbí de Calella
Along the seafront promenades of Pineda de Mar and Calella as far as the end of Garbí Beach in Calella, from where the Serra del Corredor de las Guilles uplands stretch as far as the sea, topped by one of the most famous lighthouses along the Catalan coast. A completely flat route. The route itself includes seafront promenades, sandy tracks and cycle paths, making it suitable for all types of user. It can be covered on a town bike.


Districts: Maresme
Main waypoints: Santa Susanna, Pineda de Mar, Calella, Pineda de Mar, Santa Susanna.
Distance: 13.80km
Climb: 0 m
Duration: 1 h
Types of track used: Tarmac track, track, streets and seafront promenade.

More information
[ssba]