Cycling
Santa Susanna has become an established sports tourism destination cyclists from all round the world thanks to its specialist accommodation, appealing mountain bike trails for all types of cyclist, customised services and a great cycling atmosphere.
Download the Cycling triptych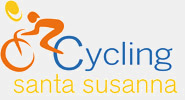 MTB Routes 1 – From Sant Celoni to Santa Susanna
A route crossing through the Montnegre-Corredor Nature Park before reaching Santa Susanna. The route starts in the Tordera river basin. Gradually, amid Mediterranean woodlands typical of wet regions, with oaks, holm oaks and chestnut trees, the route ascends the Montnegre uplands, an excellent look-out over the coastline, with views of the Maresme shore between Tordera and the Besòs. A gentle descent along the sunny side of the slopes drops back to the level of the coast. A fairly long but gently climbing layout, with signage at various points, ideal to combine with public transport (train) using the RENFE stations in Sant Celoni and Santa Susanna. Two vehicles or a support driver would otherwise be needed.
Districts: Barcelona, Maresme
Main waypoints: Sant Celoni, San Lorenzo de Vilardell, Cruz de en Ginestar, San Martín de Montnegre, Coll de Can Benet, Collet de San Andrés, Coll de la Era de en Mora, Calella, Pineda de Mar, Santa Susanna.
Distance: 35.10km
Climb: + 915m / -1045 m
Duration: 3 h 20 min.
Types of track used: Tarmac track, track, streets and seafront promenade.
More information
[ssba]