Cycling
Santa Susanna has become an established sports tourism destination cyclists from all round the world thanks to its specialist accommodation, appealing mountain bike trails for all types of cyclist, customised services and a great cycling atmosphere.
Download the Cycling triptych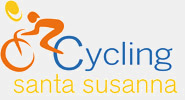 Route 4 – Santa Susanna – Sant Celoni – Hostalric
The route is fairly short, and with few inclines. It skirts the Montnegre uplands, separating the districts of Maresme and Vallès Oriental via the Collsacreu col, before heading inland NE along the valley of the River Tordera, in the district of La Selva, and then returning to the starting point by following the lower course of the same river. A watercourse that has traditionally been seen as the boundary separating the coastal plains of Maresme from the more rugged and rocky landscapes of the Costa Brava. Mention should be made of the climbs from Sant Pol de Mar up to Arenys de Munt, covering 9 km with maximum inclines of up to 9%, and the climb up to Collsacreu: 3 km with maximum inclines of 8%.
Districts: Maresme-Vallès Oriental-Selva
Main waypoints: Santa Susanna, Sant Pol de Mar, Arenys de Munt, Sant Celoni, Hostalric, Tordera, Santa Susanna.
Distance: 69.17km
Climb: 570 m
Duration: 3 h 30 min
Types of roadway used: National highway with wide hard shoulder, district highways in good condition but without hard shoulder.
More information
[ssba]