Cycling
Santa Susanna has become an established sports tourism destination cyclists from all round the world thanks to its specialist accommodation, appealing mountain bike trails for all types of cyclist, customised services and a great cycling atmosphere.
Download the Cycling triptych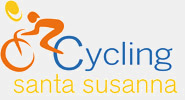 Route 6 – Santa Susanna – Lloret de Mar – Vidreres – Sant Hilari
The route crosses the delta of the River Tordera and enters the district of La Selva. It first takes in the southernmost end of the Costa Brava, home to the popular and lively town of Lloret de Mar, with its extensive range of hotels and leisure opportunities for tourists. It then heads towards the inland part of the district, entering the verdant woodlands of the Guilleries, so dense and extensive that a century and a half ago they still provided a hideaway for groups of bandits and warriors left over from the Second Carlist War. Mention should be made of the climb up to Lloret Blau (3.5 km with inclines of up to 16%) and the climb up to Sant Hilari Sacalm (26 km with inclines of up to 10%).
Districts: Maresme, Selva
Main waypoints: Santa Susanna, Lloret, Vidreres, Santa Coloma de Farners, Sant Hilari Sacalm, Arbúcies, Hostalric, Tordera.
Distance: 108km
Climb: 1,160 m
Duration: 5 h 10 min
Types of roadway used: National highway with wide hard shoulder, district highways in good condition but without hard shoulder, district road from Santa Coloma de Farners to Sant Hilari Sacalm in poor condition, tunnel (150 m) with lighting and without hard shoulder.
[ssba]