Cycling
Santa Susanna has become an established sports tourism destination cyclists from all round the world thanks to its specialist accommodation, appealing mountain bike trails for all types of cyclist, customised services and a great cycling atmosphere.
Security Councils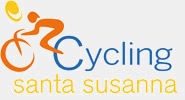 MTB Routes 2 – From Santa Susanna to the Collado de l'Era d'en Mora
An attractive route from Santa Susanna, skirting the sea along the promenades in Pineda de Mar and Calella, before climbing back up the Calella watercourse as far as the Coll de l'Era d'en Mora. A fun descent begins here, following the undulations of the crest before arriving at Garbí Beach in Calella. A route that is flat for the most part, despite a number of sharp but short climbs up to the col and crest. The descent is also fairly steep.

Districts: Maresme
Main waypoints: Santa Susanna, Pineda de Mar, Calella, Coll de l' Era d'en Mora, Calella, Pineda de Mar, Santa Susanna.
Distance: 20.83km
Climb: 260 m
Duration: 1 h 40 min
Types of track used: Tarmac track, track, streets and seafront promenade.

More information