Cycling
Santa Susanna has become an established sports tourism destination cyclists from all round the world thanks to its specialist accommodation, appealing mountain bike trails for all types of cyclist, customised services and a great cycling atmosphere.
Security Councils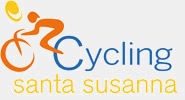 Route 9 – Santa Susanna – Tossa de Mar – Llagostera
An attractive route taking in the south of the Costa Brava via the popular tourist town of Lloret de Mar, before arriving, via a winding highway offering splendid views, at the walled town of Tossa de Mar. Here the route turns towards the NW, heading into the district of La Selva, through the towns of Llagostera and Caldes de Malavella, famous since ancient times for its thermal waters, and subsequently its spas, before returning to the starting point via the Tordera Valley. Particular mention should be made of the climb on leaving Lloret de Mar towards Tossa de Mar, covering 6 km with inclines of up to 8%, as far as Rocas Guilleres and from Tossa de Mar to Collat de Tierra Negra: 9 km with inclines of up to 11%.
Districts: Maresme-Selva
Main waypoints: Santa Susanna, Santa Susanna, Blanes, Tossa de Mar, Llagostera, Caldes de Malavella, Tordera.
Distance: 84.2km
Climb: 790 m
Duration: 4 h 15 min
Types of roadway used: National highway with wide hard shoulder, district highways in good condition but without hard shoulder.
More information